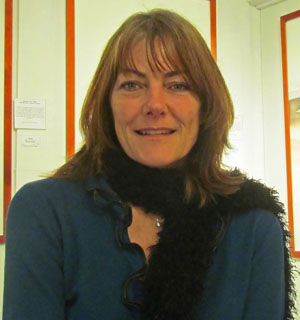 Introduction
When you see an artist, say "Thank you!" For when you know an artist's work you know a part of their world, and then that world becomes part of your life.
---
This section of my website features not my work, but rather my beloved collection of originals, lithographs, and Giclees by Marian Berger, an artist who specializes in painting endemic Hawaiian birds. Besides the fact that I think her work is drop-dead beautiful, I like the fact that her style is reminiscent of John James Audubon (links on this page open a new browser window). Frankly, I am proud to own the images shown in this section of my website. Joan and I first became aware of Marian Berger's work on a visit to Hawaii in 1985. We saw her early lithographs in Stone's Gallery (no longer existent), fell in love with them, and Joan bought three as a gift for me. We selected birds we had actually seen: elepaio, apapane, and i'iwi, had all three framed in koa wood, and they still hang in our house. They have stood the test of time in-so-far as our taste and interests go.
Marian Berger is still living and painting birds in Hawaii. You can purchase her work via the in several ways:
Via Marian's developing Etsy store.
At Marian's personal website, or by phone: 808-967-8195.
At the Volcano Art Center website, by phone at 866-967-7565 or by email: .
You can see a selection of Marian's available work on a webpage put up by her publisher, Mo Media, but will need to contact Marian to purchase the images (see Marian's contact information above).
My own website shows my collection of Marian Berger artwork via links in the window to the left. If you see something you like, contact Marian to see if it is available. If not, she can likely suggest something similar that is available.
Marian has completed a double elephant portfolio of Hawaiian endemic birds, consisting of thirty-three images with the birds painted life-size. The images may be seen on the her website. To me they are spectacular. The originals are periodically on display at the Volcano Art Center, in Volcano, Hawaii. The project is a fundraiser to help protect Hawaii's endangered bird species.
Today it is estimated that one third of the native Hawaiian bird species are extinct, and that an additional third are endangered. A sad story indeed for these beautiful birds.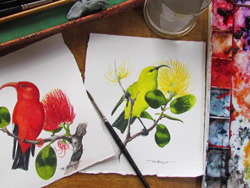 You may find the website about Marian Berger's publisher, Mo Media, interesting as well.
Here is a brief background of Marian Berger.
To be very clear, all images are shown here by permission of Marian Berger, and all are copyrighted. Specifically: "Copyright Marian Berger. All rights reserved; images are protected under US copyright laws and may not be copied or reproduced in any manner."
Finally, I make no claim that your computer and monitor or my scans show the exact colors of Marian Berger's originals, lithographs, or giclees. If you buy some, you will simply see that they are truly beautiful.
---
Back to: Birds by Marian Berger
Back to: Dick Shirley's Web Site
Maximize browser window if you don't see small images on the left.