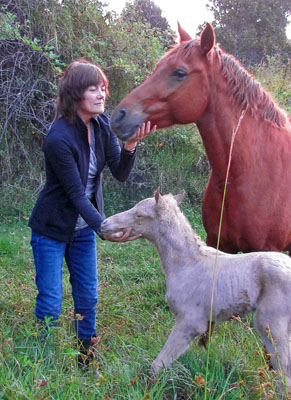 Marian Berger
From me:
Marian Berger's art touches my soul, and I simply never tire of it; I have owned three of her lithographs since 1985 (thanks to a gift from my wife), and now continue to purchase more. My interest is not simply because I have been a birder since 1980 and bird photographer since 2000, nor is it only because Marian's subjects are exotic to a US mainland birder. Rather, on top of these things the simple truth is that I believe Marian Berger is a great artist. Click on the thumbnails of her images to see for yourself!

From the Mo Berger website:
Marian Berger paints birds. Honestly, I'm not the only one who's said this … I always envisioned a dear lady with graying hair painting birds on an easel. The day she walked into my studio I nearly dropped to the floor. Marian is as stunning as her watercolors; a forever young, vibrant, beautiful woman. Her birds… what a joy to scan and print Marian's work. She captures Hawaii's sweet treasures perfectly, and, like only the very best artists, I don't think she truly understands how great she is.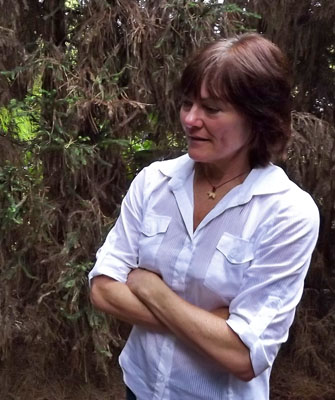 From the Volcano Art Center Gallery:
Volcano Village's own Marian Berger is a first-rate naturalist artist fully deserving of her growing reputation.

Born in Limerick, Ireland, the daughter of a meteorologist, Marian spent her early childhood on Wake Island and in Alaska where she acquired her father's love of science, her mother's artistic bent, and her parent's mutual love of the outdoors. "I assumed that art was a natural part of life, a way that everyone expressed themselves," she says.

During her teens, Marian focused on abstracts until she took a class at Humboldt State University in representational drawing which "opened my eyes," as she puts it. After graduating from Humboldt with a degree in wildlife management, Marian moved to the Big Island in 1976. While studying Hawai'i's wild rats, and working as a veterinary assistant, she continued to paint.

Marian had her first one-woman show at Volcano Art Center Gallery and has had several since. In 1987, she created a series of paintings of Hawai'i's endangered birds and plants for the Aston Kaua'i Resort. An edition of 2000 prints was published, and proceeds from the sales were given to the Hawai'i Nature Conservancy. In 1988 she painted a number of watercolors presented to U.S. Senators Danial Inouye and David Akaka for their contributions in preserving Hawai'i's native wildlife. She continues to receive commissions and to paint independently with consummate skill.
---
Back to: Birds by Marian Berger
Back to: Dick Shirley's Web Site